Providers
Dr. Erole McLean Hobdy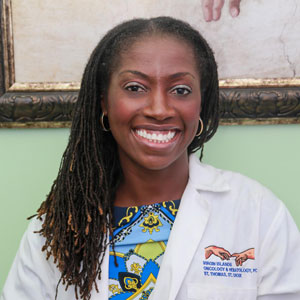 Dr. Erole McLean Hobdy is the owner and founder of Virgin Islands Oncology and Hematology. She is a board certified medical Oncologist and Hematologist and received her medical degree from Columbia College of Physicians and Surgeons in New York. Dr. Hobdy completed her internship and residency training at Columbia Presbyterian Medical Center in New York then completed her Oncology and Hematology fellowship at Yale Cancer Center.
In January 2006, Dr. Erole Hobdy opened the doors of Virgin Islands Oncology and Hematology on the second floor of the VI Medical Foundation Building directly behind the Schneider Regional Medical Center in St. Thomas. Dr. Hobdy, a native of Jamaica, had been living on the island for two years and was impressed by the number of people who were being diagnosed with cancer and who were leaving the island for cancer care. With her medical degree and training from Columbia University in New York and her cancer training from Yale Cancer Center, Dr. Hobdy felt that she could and should do her part in providing an option for patients to receive cancer care locally in the Virgin Islands. Dr. Hobdy's belief was, and still is, that people living in the Caribbean should feel confident and comfortable that they can get good care at home.
To help reach her goals of providing treatment to the greater Caribbean, Dr. Hobdy expanded her practice to St Croix, USVI, Tortola, BVI at Penn Medical Center and St Kitts/Nevis over many years.
As of January 2021, Virgin Islands Oncology & Hematology is no longer operational in St Thomas, St Croix or St Kitts/Nevis but continues to operate at Penn Medical Center in BVI.
Dr Hobdy however, still sees patients in St Thomas but as part of a different entity, St Croix/St Thomas Cancer Specialists, which is in the same location in the VI Medical Foundation Building, Suite 203, behind the hospital. Phone number is (340)776-1551 and fax number is (340)776-1552.